About Cold Storage Doors
The Advantages of Jamison Cold Storage Doors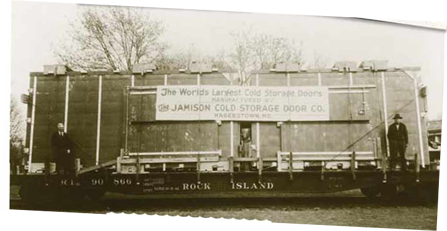 Since 1906, Jamison Door Company has pioneered the industrial door industry.
Innovative designs, unsurpassed product quality, and outstanding customer service.
When you buy Jamison, you buy more than a door. You buy the expertise and experience of a company with demonstrated leadership in the design and manufacture of doors for all types of cold storage environments. Our involvement dates back over a century and has produced innovative solutions to every cooler and freezer requirement.
Our strong commitment to research and development, our engineering know-how, and our highly-skilled workforce enable us to successfully handle projects of any size or complexity. As a result, Jamison Cold Storage Doors are chosen most often throughout the food processing, food service, and temperature-controlled storage/distribution industries.
The Value Difference Hand Framing Makes
Jamison doors start with a hand-constructed framing designed specifically for your application. Starting this way allows us to provide secure, strong, properly positioned mounting supports for the hardware.
It also makes it possible for us to add the extra strength needed on larger doors. Video Player: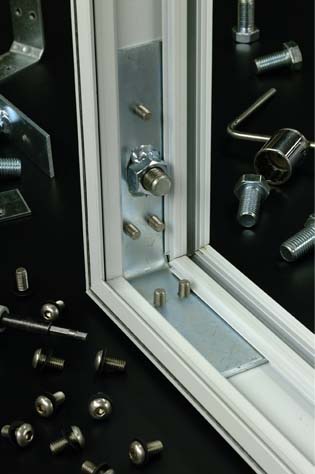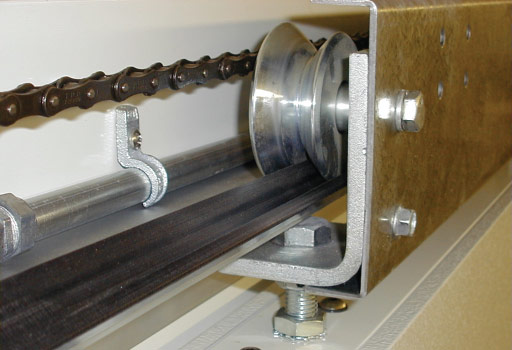 Look Alike Door Materials Don't Perform Alike
Jamison creates superior monolithic structures
Many cold storage doors are made by simply assembling facings and frame components to a pre-fab panel of either expanded polystyrene or urethane. Instead, Jamison creates a superior monolithic structure by using foamed-in-place urethane. It delivers superior R-values for a given cross section and bonds the entire door together making it extremely difficult to tear apart.
It also provides a narrow profile that saves you valuable floor space, adds operating efficiency, and helps protect the door from damage.
Quality Hardware and Power Operators
The Powertron Operator is the most popular power operator in the history of cold storage doors. It is the most dependable and easy to service/maintain. Jamison is the last of the manufacturers to still design and manufacture their own operators.
The quality of Jamson hardware is clearly visible. Compare our track assemblies, hinges, latches and rollers, and you will see they are the heaviest-duty quality available. This assures you of longer door life with less costly maintenance. Want even heavier duty construction or hardware? Jamison has a near endless number of quality options to enhance the strength, life, and corrosion resistance of our doors.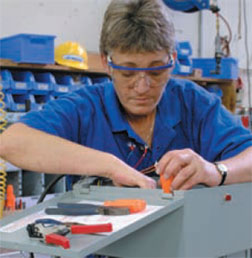 We pay special attention to door gaskets.
Gaskets are the first line of defense against energy loss.
Gaskets are the first line of defense against energy loss in a cold storage door. That is why we pay special attention to gasket materials, design and installation. We use many different shapes and formulations, each designed for a specific use. Our gaskets are actually a part of the door design, not an afterthought. On all Mark IV doors, the gaskets are field adjustable to retain full sealing ability over many years of use. Most importantly, the design and operation of our door closing systems minimize gasket drag and protect the gaskets from wear.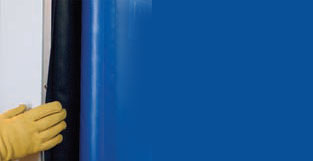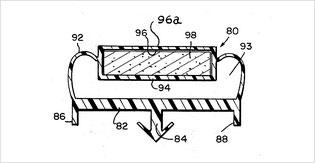 [/et_pb_column]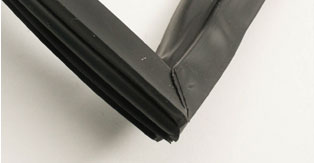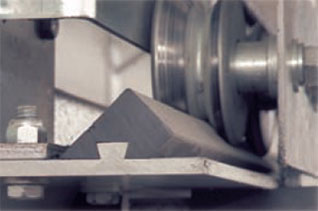 The Most Unique and Reliable Door Closing Systems Available.
The Most Unique and Reliable Door Closing Systems Available.
Our patented Diamond-Trac System is a "down and in" sliding door system that establishes the most effective thermal seal with compression points at heads, sides, and sills. The Diamond-Trac System provides an easy and quiet opening and closing cycle. Our overhead and vertical doors use the same long-life "down and in" sealing principle. Our swing doors use heavy duty latches and hinges for rapid action, low maintenance, and high dependability.