Jamison Door Service & Installation School
Jamison Door Company teaches everything you need to know about installing various types of industrial doors.
From our new location in Waynesboro, PA, Jamison offers valuable, detailed instructions in servicing and installing Jamison doors for contractors, service providers and end users. We invite you to join an existing class, or we can work with you to create specialized instruction in any related topic.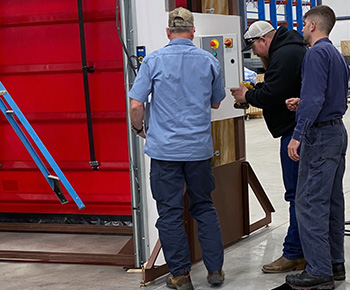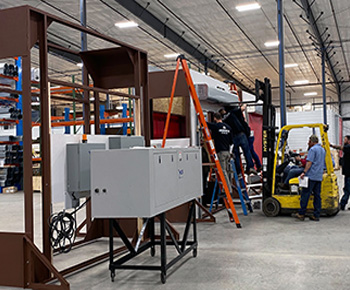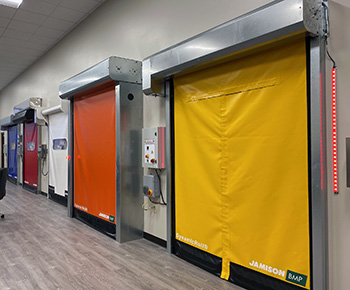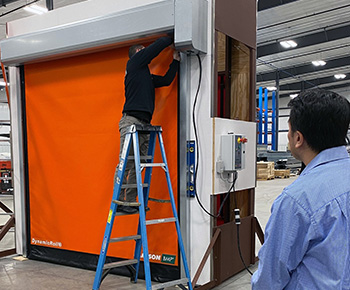 Our standard 'hands on' curriculum includes:
Troubleshooting both mechanical and electrical
Installation of a Mark IV power biparting freezer door
Installation of a HCR model AC recirculatory air door
Installation of a Jamison BMP rollup door
Adjustments
Control panels
Power units
Understanding how HCR units work
How to maximize energy efficiency of HCR units
Preventive maintenance
On-demand video learning
Jamison is also pleased to provide on-demand video and collateral learning tools for installation, set-up, and service of HCR air door equipment. The training curriculum totals about two hours of video plus instruction manuals for download and review.
Introduction to HCR – Technical Animation
Remove All Obstacles – The Movie
Download the HCR Catalog and Product Sheets
HCR 101: Installation of AC and 3CAV Models
HCR 102: Start-up of AC and 3CAV Equipment
HCR Advanced/Specialized Topics:
Inspections & Adjustments
Air Door Overview – How it Works
General Inspection
Discharge Nozzle Check
Discharge Nozzle Adjustment
Coil Cleanout
VFD Controller
Air Velocity Check
Air Velocity Adjustment
Belt Tension Check HCR Model AC and 3CAV
Adjusting Thermostats & Airflow Dampers
Register here for access to the video courses.