Healthcare, Pharmaceutical & Biotechnology
Jamison Door Company designs, manufactures, and installs various types of Healthcare, Pharmaceutical & Biotechnology doors.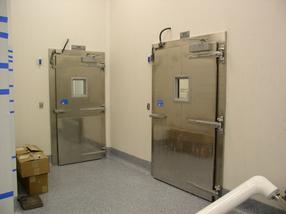 When human health and safety are on the line, the industry calls on Jamison.
Jamison is the industry's one-stop source for the enormous range of applications across the Healthcare spectrum. Hospitals, labs, pharmaceutical facilities and many others consistently turn to Jamison and our various technologies for safe, secure, high-performing doors.
ROLLUP DOORS
Speed is of the essence in most hospital applications. As such, Jamison BMP high-speed roll-up doors are in demand for emergency rooms and other healthcare settings that rely on rapid access.
RFID
Managing assets and the accompanying costs are critical components of effective healthcare management. RFID can accelerate cost-efficiencies, improve productivity, and lower risk in applications from the operating room to the medical supply chain. RFID-tagged assets allow workers to locate hospital assets quickly and efficiently and reduce the costs of replacement. By including RFID tags on equipment and RFID read-points strategically located throughout the facility provides real-time visibility, while also saving time and money. For pharmaceutical production and tracking, RFID delivers the highest-level of traceability and information available for maximizing supply-chain and distribution efficiencies.
Industrial Metal and See-Through Security Doors
Laboratory settings and various healthcare facilities often have stringent requirements based on both code and function. Security, accessibility and environmental control are just a few of the considerations that drive door selection in such environments.
Jamison HCR Air Doors
Recirculatory Air doors control temperature and moisture between rooms while providing a wide open environment. They are excellent to be teamed up with traditional doors to create hybrid solutions. Hybrids are for applications when a traditional door needs help maintaning temperature and/or minimizing moisture migration due to high door open time, but a wide open HCR solution isn't cost effective. Recirculatory air doors are able to lower heating and cooling costs and keep insects, airborne particles and contaminants out of a particular area.