More than a million doors. More than a hundred years. More thankful than we can say.
1906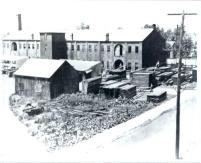 Incorporation of Jones Cold Store Door Company.
This is how it all started, a small operation in Hagerstown, Maryland, started by a Dr. Elgin, R.E. Jones and J.V. Jamison, Sr. The three men agreed to combine their assets – the patented hardware from Elgin and Jones and $2500 cash from Jamison. Within a year Jamison found that he couldn't work with Jones so he made a buy/sell offer of $5000 to his partners. Jones and Elgin sold out but the name of the company remained until 1914.
1907

J.V. Jamison, Sr. became president.
John Vincent Jamison, Sr. led the company until his death in March, 1920.
1909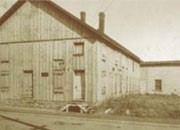 Move into present facilities.
Over the years many additions to this original structure were made, but this original section still stands, a daily reminder of the heritage of the company.
1910
Acquired Noequal Door Company, Brooklyn, N.Y.
Noequal Door Company had been in business about 2 years when Jamison bought it. There were certain perceived advantages of the door they made which centered around their use of rounded jambs which did away with square corners on the frame.
1913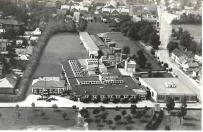 Completed negotiations for purchase of present site from Hamilton Estate.
First unit of new plant completed and occupied.
1914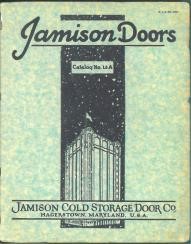 Charter amended to change name of corporation to Jamison Cold Storage Door Company.
1917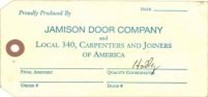 Signed first contract with United Brotherhood of Carpenters and Joiners of America, Local Union No. 340, and received the State of Maryland's Union Label #1.
Every door that leaves the factory has the union label, signifying the door's quality meets the high standards of the workers who have built it with pride.
1920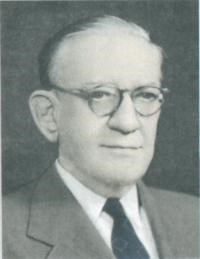 J. V. Jamison, Jr. was elected president, succeeding his father.
Warehouse (now the machine shop) and new office building erected.
1928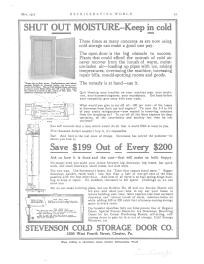 Acquired Stevenson Door Company, Chester, PA. Created Sales Department.
Mr. Sam Price Stevenson had started the first cold storage door factory in Chester, PA during 1896 and Jamison became his first competitor.
1936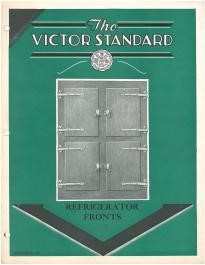 Acquired inventory of Victor Cooler Door Company, Hagerstown. First 30-Year club dinner held.
These dinners, which continue to this day, honor those who have worked for the company for 30 years. The large number of members of this group explain the organization's stability which yields consistent high quality performance in all aspects of the business.
1940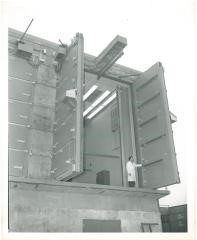 Built first sound reduction doors for Wright Aeronautic Corporation.
While specialty doors have never been the company's main product, they have been a consistent source of income over many years.
1941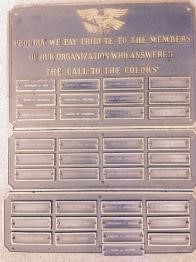 World War II
Almost 50 Jamison employees served in the Armed Forces during World War II.
1942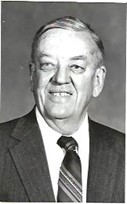 J.V. Jamison, Jr., elected chairman of the board, J.V. Jamison, 3rd elected president and general manager.
The company had its first million dollar sales year.
1946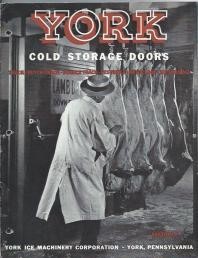 Acquired door business from York Corporation.
1947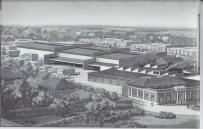 Built building (now Head Cell Department)
1950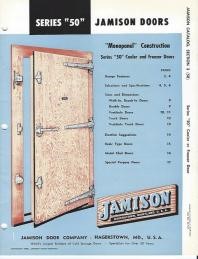 Introduced the Series 50 cold storage door.
1955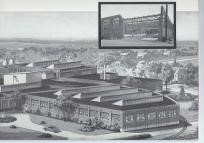 Built building (now Crating & Shipping Departments)
1958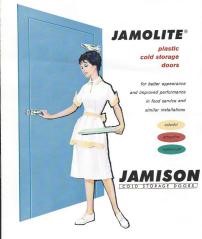 Introduced the Jamolite all plastic cold storage door and frame.
1959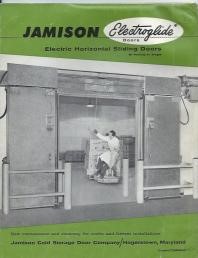 Introduced the Jamolite all plastic cold storage door and frame.
1962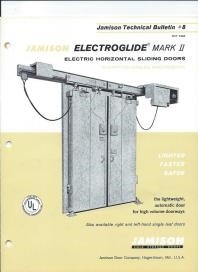 Introduced the Mark II series of doors.
1967

Charter amended to change name to Jamison Door Company.
Expanded manufacture of Jamison doors to Japan.
1972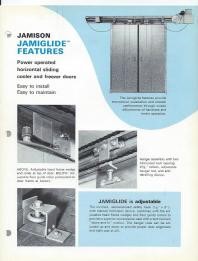 Introduced Jamiglide series of doors.
1977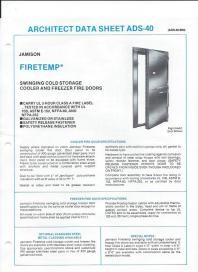 Introduced Alltemp cold storage fire door, UL Labeled.
1978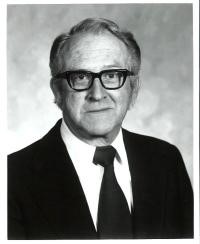 J.V. Jamison, 3rd elected chairman of the board and D. Tolly West., Jr., elected president.
1979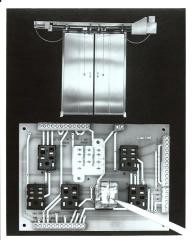 Introduced printed circuit board control.
1980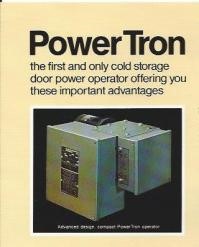 Started full production of PowerTron operator.
Introduced plastic coated Controlled Atmosphere Door.
1981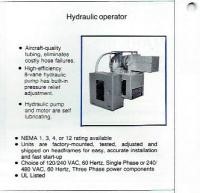 Introduced Hydraulic Operator for Cold Storage Doors.
1983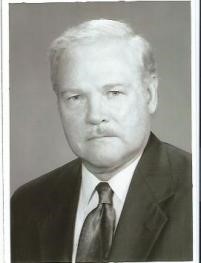 Roland F. Smith elected president.
J.V. Jamison, 3rd honored by city and county representatives and Congresswoman Beverly Byron for 50 years service.
1984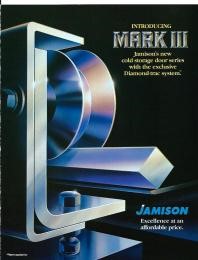 Introduced Mark III Series Doors with patented Diamond-Trac® System.
1985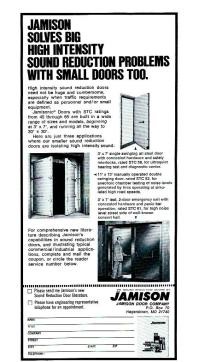 Introduced new line of STC 50-57 Swing Sound Doors (Jamisonic® Series 2000)
1986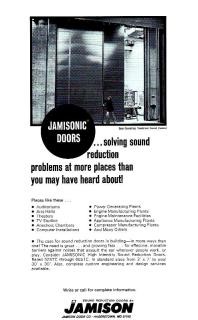 Introduced new line of STC 51-53 Horizontal Sliding Sound Doors.
1989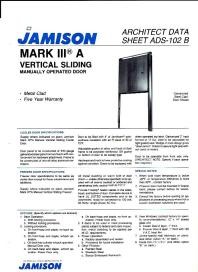 Introduced Mark III A Vertical slide Door (Woodless) and Mark III Auto Clear Fast-Acting Bi-Fold Door.
1991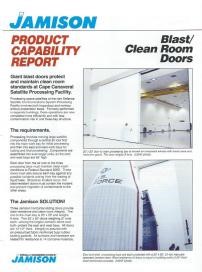 Shipped two Special Steel Blast Clean Room Doors for 20′ x 50′ openings to Cape Canaveral Satellite Processing Facility,Florida.
Jamison's largest single leaf operating doors ever built- each door in six pieces weighing 21 tons.
1993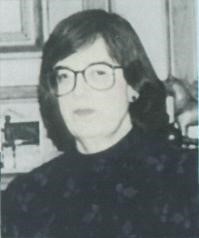 J.V. Jamison, 3rd recognized for 60 years in industry.
Wye Jamison Allanbrook elected Chair of the Board; Series 2000 Post Office Doors Pass U.S. Postal Office "torture test". Began using environmentally- friendly non=CFC foam insulation.
1994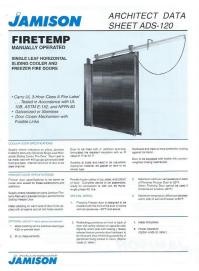 New Firetemp® Sliding Door design achieves 3 hour UL fire label.
Series 2000 Hollow Metal Sound Doors introduced. Obtained 3 hour Fire label on Hollow Metal Sound/Blast Doors.
1995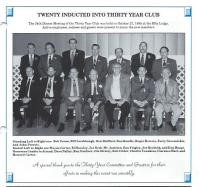 Inducted largest class into 30 Year Club – twenty employees.
1996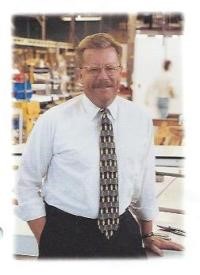 Roland F. Smith elected Vice Chair Board; John A. Latimer III elected President and CEO.
Introduced Mark IV Series of Doors; Maple Avenue renamed J. V. Jamison Drive by City of Hagerstown.
1997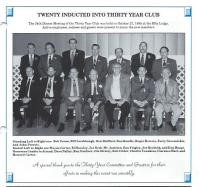 Initiated Jamison Website: www.jamisondoor.com.
Introduced computer aided Scriber to layout metal to manufacturing operation; Installed Pro Engineer; Began reorganization of shop to cell manufacturing process; Installed "PowerCerv" software to control Distribution, Manufacturing and Financial systems within company.
Curtis Berry hired as V.P. of Engineering.
1998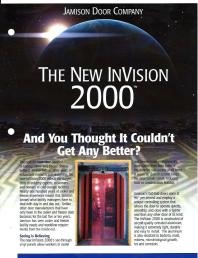 Implementation of "Synchronous Manufacturing" to improve the workflow through all processes; Introduced InVision Bi-Fold Power Door.
1999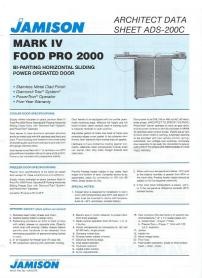 Introduced "FOOD PRO" Horizontal Sliding Door; Introduced first CD-ROM Interactive Digital Catalog.
2000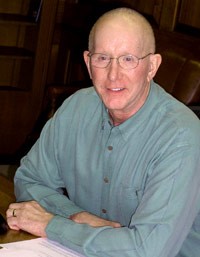 John T. Williams elected Chairman of Board.
Recruited Dwight Clark, a long-time manufacturers rep for doors, as Vice President of Sales and Marketing.
2002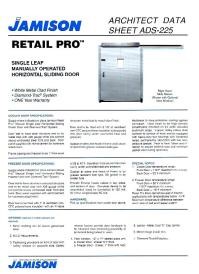 Introduced Retail Pro Manual Horizontal Sliding Door.
2004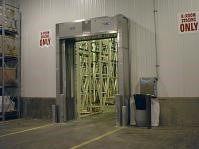 Jamison acquired HCR (Re-Circulatory Air Door Manufacturer), Lewistown, MT.
Introduced Power Horizontal Sliding PAD Door; Jamison began hosting own Website.
2004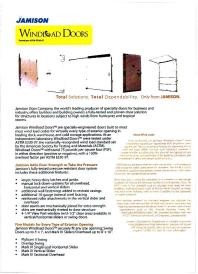 Introduced "Windload" Door Line (Swing, Horizontal Slide, Vertical Lift and Overhead models) tested in accordance with American Society Testing and Materials standards.
Installed Dual Cutting Head Aluminum Saw in manufacturing; Introduced On-Line Customer Assistance program; Opened a production facility in Mexico City as a joint venture with Jamison's Mexico representatives.
2005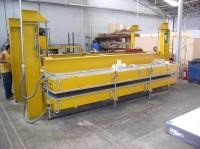 Jamison Door Latino America produced is first door.
The joint venture, formed in 2004, gave Jamison a presence in the growing Mexican market with a new plant in Mexico City.
Greg Lloyd joined the management team as Vice President-Finance/CFO.
2006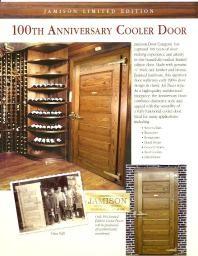 Jamison celebrates its 100 year anniversary.
Received approval from Underwriters Laboratories for redesigned power door control panels; Introduced PUB Anniversary Door.
2007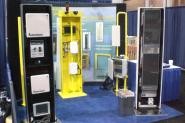 Jamison entered the RFID market with its first portals, the cabinets that house the electronics components.
2009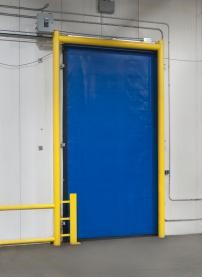 After years of research and development, introduced Versaflex, the industry's best hittable door.
2010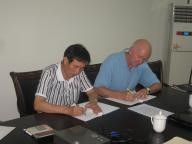 Signed a licensing agreement with Changzhou Jingxue Freezing Equipment Co. Ltd. in China for the manufacture and sale of HCR air doors.
2012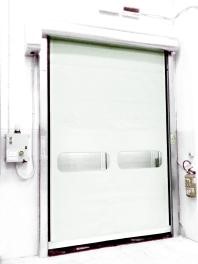 Began manufacturing high speed rollup doors at our BMP/Jamison plant in Hagerstown, a result of our having formed a joint venture with B.M.P.S.r.l. of Alba, Italy.
2015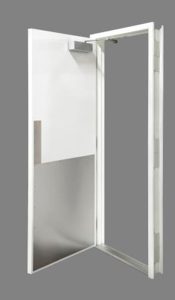 June 17, 2015 – Jamison announces the grand opening of their new Jamotuf manufacturing plant.
Jamison Door Company opens their newest manufacturing plant which manufactures the Jamotuf line of doors. Jamotuf is the name of Jamison's line of 1 3/4″ insulated molded non-corrosive fiberglass doors and frames. It is Jamison's 5th North American manufacturing plant, and 6th operating company.
2018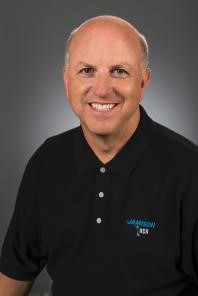 Jamison Door Company Names Dwight Clark President and Chief Operating Officer.
Jamison Door Company has promoted Dwight Clark to be President and Chief Operating Office effective January 1, 2018. Mr. Clark joined the company in 2001 as Vice President Sales and Marketing and has led the sales effort since that time, developing a sales organization capable of selling the growing number of products the company manufactures. He has been a key player in helping guide the introduction of new products and territories. Active also in industry activities, Mr. Clark has been on the Board of Directors of the International Association for Cold Storage Construction since 2002. Dwight is excited to have the new responsibilities and the opportunity to help lead as we go forward.
2018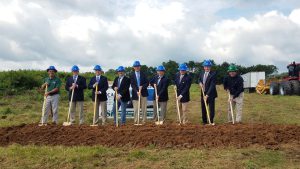 Jamison breaks ground on their new BMP manufacturing plant.
On August 22, 2018, Jamison Door Company officially broke ground on the new Jamison BMP manufacturing facility. The Franklin County (PA) Area Development Corp. is serving as a developer for the 50,000-square-foot building, and the new space for roll-up door production is anticipated to be complete by summer of 2019.
2019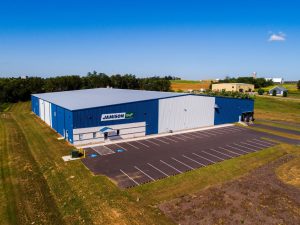 Jamison officially opens doors in PA.
We marked our continued expansion August 21, 2019 with a ribbon-cutting ceremony at our new BMP Doors USA production facility in Franklin County, PA. This is a result of teamwork and dedication, and we are excited to 'open the doors' to new opportunities.
2021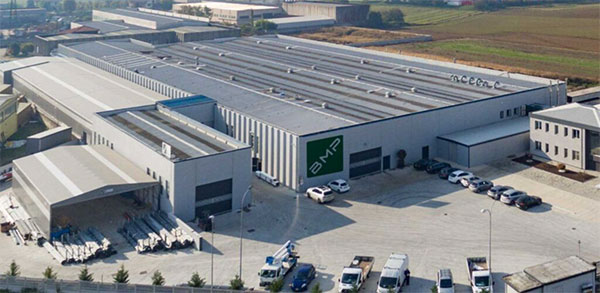 Jamison Door Company announces the merger of Jamison Door Company with BMP Europe, S.r.l.
Jamison Door Company, founded in 1906, with its 5 manufacturing plants, is the largest manufacturer of temperature controlled and specialty doors in North America. The headquarters for the combined entity's North American operations will continue to be at the Hagerstown location.
2023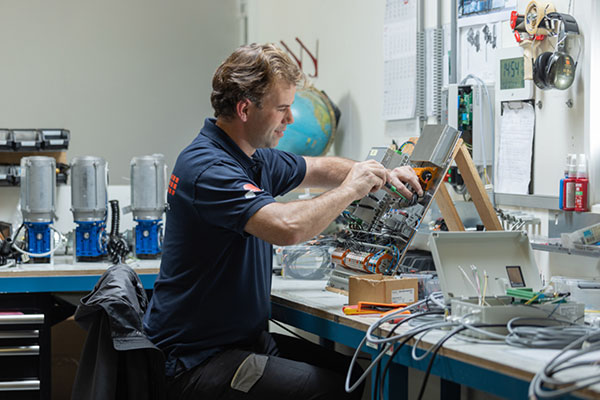 BMP Europe enters partnership with SALCO.
Jamison Door Company is pleased to announce that their parent company, BMP Europe, has entered into a partnership with one of the world's leading manufacturers of gas room door products, SALCO. This partnership is expected to lead to increased efficiency, an expansion of our product range, and a significant increase in our market share.