About Jamotuf Doors
The Advantages of Jamison Jamotuf® Doors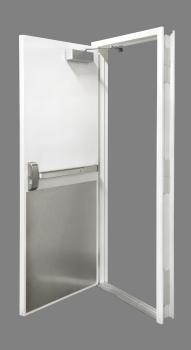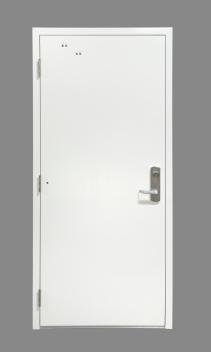 Since 1906, Jamison Door Company has pioneered the industrial door industry.
Innovative designs, unsurpassed product quality, and outstanding customer service.
In 1958, Jamison Door Company introduced their first fiberglass door with the manufacture of the Jamolite product line. Now with nearly 60 years of experience creating and perfecting fiberglass doors, Jamison has introduced its subsidiary company, Jamotuf®, LLC, specializing in 1-3/4" thick fiberglass doors with fiberglass frame options.
The smooth gloss gelcoat surface is exceptionally clean, non-porous, and non-absorptive. The molded fiberglass door and frame is extremely corrosive resistant, durable, and low maintenance and comes with lifetime corrosion warranty.
As the name implies the Jamotuf® doors and frames are for your 'tuf' or toughest corrosive environments.
The Value Difference Hand Framing Makes
Jamotuf® Frame Profiles are pultruded in standard colors with a molded gloss finish. The innovative pultruded gloss finish is an industry first in the corrosion door market and yields the most aesthetically pleasing product appearance of its kind.
Standard Fiberglass Frame Construction Details
Reinforced for overhead closers, holders, or stops
Mitered and reinforced for strength and accurate installation
Reinforced for hinges and anchors as required
Mortised and reinforced for strikes as required
Floor anchors reinforced and provided at new masonry installations
1-1/2" equal leg fiberglass angle
Standard Fiberglass Frame Profiles
5-3/4" double rabbet
4" single rabbet
5-3/4" double rabbet window
Adjustable cased openings
Adjustable double rabbet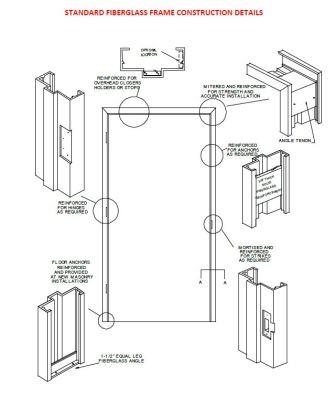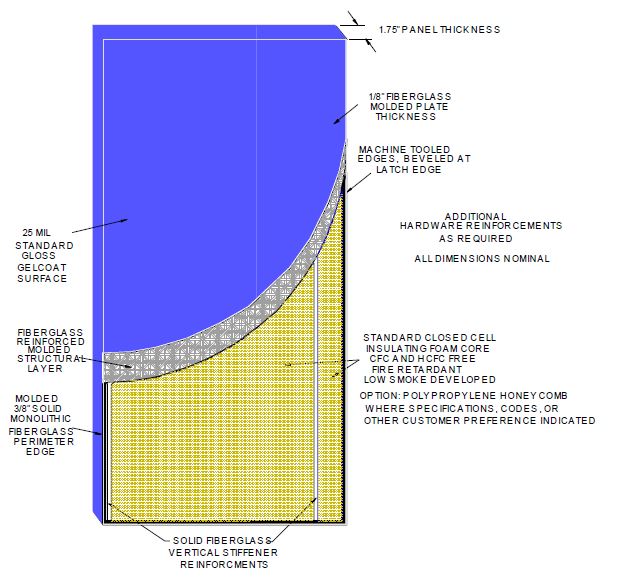 Look Alike Door Materials Don't Perform Alike
Jamison creates superior monolithic structures
Monolithic molded construction for a true seamless impermeable outer shell.
Molecular crosslinking of all six sides of the door ensures integrity of the seamless design.
Outer shell is press-molded to composite core materials for a variety of applications and designs.
A wide range of hardware preps or Grade 1 hardware accessories.
Installation of finish hardware available.
Quality Hardware is a Part of Every Jamison Door
A wide variety of hardware for every need is available for Jamotuf® doors. From specialized hinges and latches to hydraulic door closers, Jamotuf®, LLC provides quality hardware with each Jamotuf® door.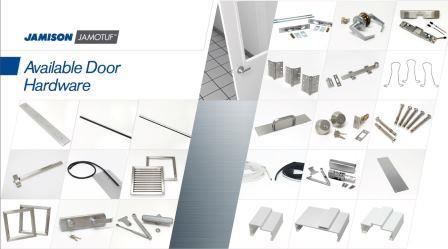 Tuf and beautiful
An aesthetically pleasing combination of form and function.
A 25 MIL molded gloss gelcoat surface makes the Jamotuf® door beautiful while the fiberglass reinforced molded structural layers makes it very strong.
The molded finish is integral to the laminate as opposed to a post applied gelcoat or painted surface.
Attention to details, such as machine tooled edges, complete the attractive overall appearance.
Molecular crosslinking of all six sides of the door ensures integrity of the seamless design.
A wide range of factory furnished and installed Grade 1 hardware accessories are available. Doors are mortised and reinforced for specified hardware.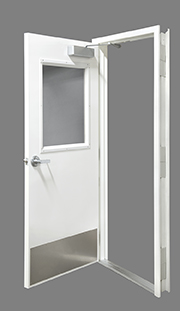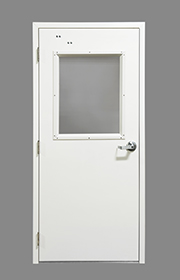 [/et_pb_column]