Jamoclear® Swinging See-Thru Plastic Cooler Door
ADS-109
Swinging see-thru plastic cooler door.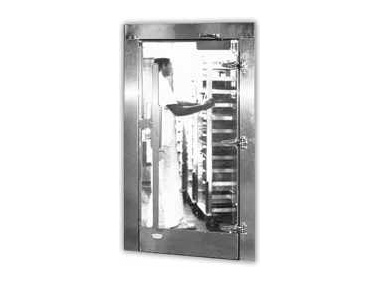 Door Features
Transparent acrylic door with stainless steel frame
Ideal for food service
Cooler Applications
Corrosion-resistant hardware
Product Specifications
Supply where indicated on plans Jamison Jamoclear® Plastic Cooler Door.
Door panel to be constructed of 1″ thick clear, transparent cast acrylic, Type #1 Grade A in accordance with Federal Specification L-P-391C. Bottom of door to be protected on front and back with #16 gauge stainless steel toe plates.
Frame to be metal clad on all exposed surfaces with #24 gauge stainless steel.
Gasket at sides and head of frame to be special extruded synthetic rubber. Sill gasket to be sweep type.
Hardware to be chrome-plated and consist of three hinges and top mounted door closer. Stainless steel 5'0″ long door pull on front. Back push plate to be #16 gauge stainless steel.
Special Note:
Door is designed for cooler operation with temperatures of plus 33° F. and above with door mounted on warm side of wall.
Options & Accessories
Frame protection – where abuse and abrasion can occur from hand-truck traffic, frame can be protected with #16 gauge stainless steel kickplates.
Locking provision – furnish lock on back of door with thumb turn on back and cylinder on front of door.
Deep jambs.
Inside trim.