Mark IV® Overhead Manually Operated Door Standard Lift
ADS-203
A favorite of industry experts, Jamison's Overhead Sliders are extremely versatile with design configurations for virtually any application.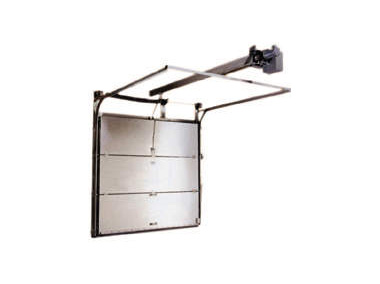 Design Excellence: These doors are equipped with a unique "down-and-in" joggle track system that assumes friction-free operation until the last few inches of travel in the closing cycle. Additionally, our vertical and overhead doors employ an automatic locking top latch and counter-balance system for secure, finger-tip operation.
Easy Installation: With track and angles preassembled on our casings, installation is quick and easy.
Flexibility: Closer positioning of doorways also provides critical floor and wall space savings.
Versatile: Designed to handle applications up to a 100F delta T with many options available.
5-year limited warranty
Door is filled with 4" Jamison foamed-in-place non-CFC polyurethane insulation, with a minimum R value of 32 at 20F for 4 inch doors per ASTM C-518
Extruded aluminum structure provides superior strength.
Standard panels are white, stucco-embossed #26 gauge galvanized steel, front and back.
Adjustable gaskets at sides and head of frame are polyester reinforced.
Hardware and track have protective coating to prevent corrosion.
Available as power-operated or manually-operated.
5-year limited warranty