Mark IV® Overhead Manually Operated Door Standard Lift
A favorite of industry experts, Jamison's Vertical Sliders are extremely versatile with design configurations for virtually any application.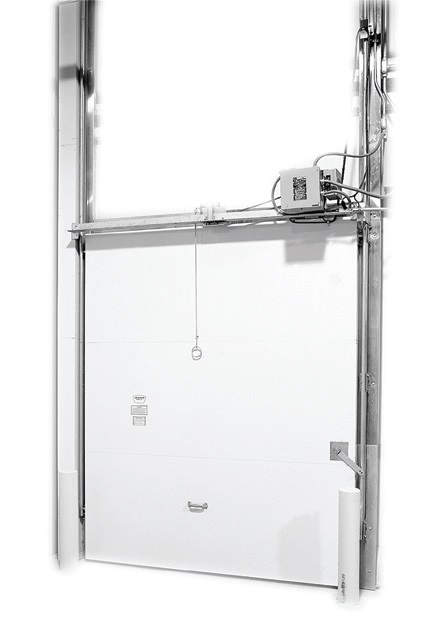 Design Excellence: These doors are equipped with a unique "down-and-in" joggle track system that assumes friction-free operation until the last few inches of travel in the closing cycle. Additionally, our vertical and overhead doors employ an automatic locking top latch and counter-balance system for secure, finger-tip operation.
Easy Installation: With track and angles preassembled on our casings, installation is quick and easy.
Flexibility: Closer positioning of doorways also provides critical floor and wall space savings.
Versatile: Designed to handle up to a 100F temperature difference across the door with 4" of FIP urethane insulation and an R value of 32.
Architectural Data Sheet(s)
Door is filled with 4" Jamison foamed-in-place non-CFC polyurethane insulation, with a minimum R value of 32 at 20F for 4 inch doors per ASTM C-518
Extruded aluminum structure provides superior strength.
Standard panels are white, stucco-embossed #26 gauge galvanized steel, front and back.
Adjustable gaskets at sides and head of frame are polyester reinforced.
Hardware and track have protective coating to prevent corrosion.
Voltages available are 120VAC single phase, 208, 230, 460 and 575VAC three phase
5-year limited warranty