Power Retail Smart Door
ADS-226
Smart Automatic Cooler and Freezer Doors bring down operating costs by making the doors 'smarter'. Tests have shown that by the use of the Smart Controller, doorways are no longer being left open by employees thus enabling maximum energy savings, reduced infiltration, and improved productivity.
The strategic alliance between Tucker Auto-Mation, Boss Controls, and Jamison Door increases energy savings by equipping the sliding doors with microwave motion sensors, time delays, and / or Infrared presence sensors so the doors know when to open and when to close, hands free! Additional features include surveillance cameras and People Counting Systems.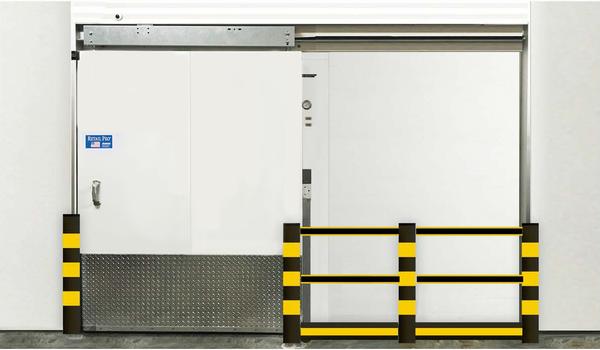 Door Features:
SINGLE LEAF
HORIZONTAL SLIDING
POWER OPERATED DOOR
Low Profile
"Smart" Door Operator
Smart Technology Options
Diamond-Trac® System
One Year Warranty
Architectural Data Sheet(s)
Freezer Door Specifications:
Freezer door specifications to be same as cooler door except for these substitutions and additions:
Supply where indicated on plans Jamison Power Retail Smart Single Leaf Horizontal Sliding Freezer Door with Diamond Trac® System.
Door leaf to have aluminum extruded structure and to be metal clad with #26 gauge white pre-painted stucco embossed steel front and back. Door panel supplied with reinforcement for hardware attachment.
Door leaf to be filled with 4″ of Jamifoam non-CFC polyurethane insulation with an R value of 32 at 40°F. Insulation to be poured into doorcavity under controlled heat and pressure.
Gasket at sides and head of frame to be grease resistant bulb type. Sill gasket to be sweep type.Provide Frostop heater cables in top, sides, and bottom of door. Complete device to be assembled, ready for connection to 120 volt, 60 Hertz, single-phase AC line.
HARDWARE: Pick up specifications from cooler door above.

Special Notes:
Cooler Door temperature range: Front Door =110°F maximum (75% humidity) Back Door =33°F minimum
Freezer Door temperature range: Front Door= 50°F minimum110°F maximum (75% humidity) Back Door =-15°F minimum
Power Retail Smart Door cannot be used in freezer applications with temperatures below -15°F.Maximum temperature difference is 70°F.
OPTIONS: (SPECIFY which options are desired)
1. Metal cladding can be stucco galvanized steel.
2. M.I.D. Requirements.
3. View window: 12″ x 14″ sealed glass unit
a. Cooler Door – 2 layer ¾" thick
b. Freezer Door – 3 layer, 1″ thick with heat.
4. Jambs- Metal Clad "C" Cap Jambs.
5. Mirror image inside trim.
6. Diamond Tread Kickplate.
7. Electric eye or motion detector to protect door from truck passage.
8. Radio control operation from lift truck, 1, 2, or 4 button.
9. Ethernet port for network connectivity.
10. Camera integration options.
11. External card readers.
12. DC motor brake with optional battery backup.