Plyfoam® II Swing Doors
ADS-104
The Plyfoam®II cooler and freezer door model has set the standard in swinging doors. Frame is flush with the floor line, meaning there is no sill to embed in concrete. Self-rising hinges actually lift the door when opened, reducing gasket wear and eliminating the need for sloped floors. The sweep-type sill gasket also prevents thermal infiltration.
Plyfoam®II Doors are reliable, durable, tight sealing, easy-to-install and can be ordered in a wide array of styles and options.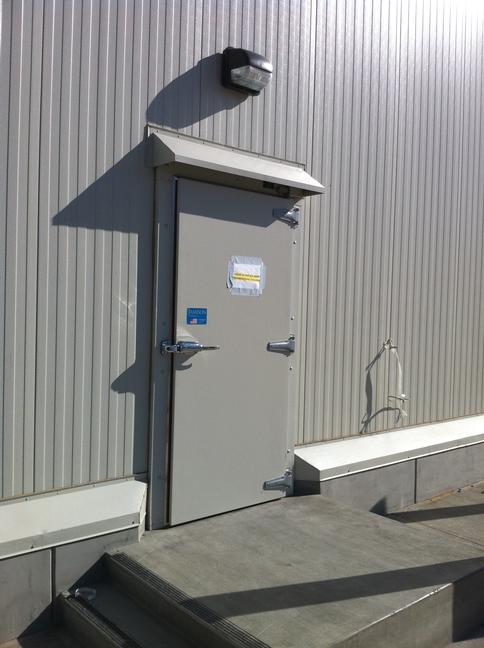 Cooler Door Specifications:
Supply where indicated on plans Jamison Plyfoam® Track Cooler Door.
Door panel to be constructed of #26 gauge white pre-painted stucco embossed steel pans front and back with reinforcement for hardware attachment. Frame metal clad on all exposed surfaces with #26 gauge white pre-painted stucco embossed steel.
All metal cladding to be applied in accordance with M.I.D., USDA regulations.
Door to be filled with 4″ of Jamifoam non-CFC polyurethane insulation with an R value of 28 at 40° F.
Gasket at sides and head of door lip to be grease resistant synthetic skin with resilient sponge core, sill gasket to be sweep type.
Hardware to have protective coating against corrosion and to consist of adjustable spring hinges and safety release type fastener (permits door to be opened from inside even though padlocked on front). (Note: For door sizes over 5'0″ wide, specify – door to be equipped with safety release device.) Track port opening shall be closed with rubber flaps that will permit passage of trolley rollers and gambrels. Flaps to be field notched around track by installing contractor.
Freezer Door Specifications:
Freezer door specifications to be same as cooler door except for these substitutions and additions:
Supply where indicated on plans Jamison Plyfoam® Track Freezer Door.
All metal cladding on warm side of door (front unless otherwise specified) and frame shall be applied with all seams and penetrating bolts sealed.
Provide Frostop heater cables in the sides, head, and sill of the frame at gasket contact areas. Complete device to be assembled, ready for connection to 120 volt, 60 Hertz, single phase AC line.
Special Notes:
When cold room temperature is below -20° F. or temperature difference is more than 90° F., contact factory.
If freezer door must be mounted in freezer room, please contact factory for recommendations.
Options & Accessories
Metal cladding can be stainless steel, stucco aluminum, galvanized, or galvanized steel painted to meet specifications.
Kickplates-door and/or frame protected partial height (specify finish).
If doors to be used in meat processing plants subject to federal and state inspection, metal cladding to be applied per M.I.D. requirements.
Jambs/inside trim-see detail on back.
6″ of insulation for freezer door (R value of 42).
Door closer.
View Windows: 12″ x 14″ sealed glass unit.
Cooler Door – 2 layer, 1″ thick.
Freezer Door – 3 layer, 1″ thick with 120 V.A.C. heat film.