Plyfoam® Swing Double Doors
ADS-106F
The Plyfoam® II cooler and freezer door model has set the standard in swinging doors. Frame is flush with the floor line, meaning there is no sill to embed in concrete. Self-rising hinges actually lift the door when opened, reducing gasket wear and eliminating the need for sloped floors. The sweep-type sill gasket also prevents thermal infiltration.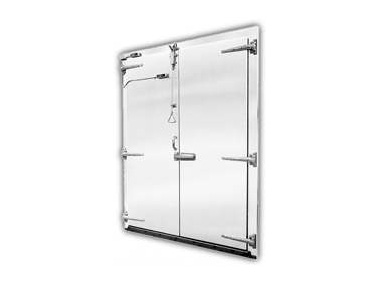 Pre-painted white door panel is constructed with #26 gauge galvanized, stucco-embossed steel.
The frame is clad to match the panel.
The door is filled with 4" Jamison non-CFC polyurethane insulation.
Minimum R value of 32 at 20F for 4 inch doors per ASTM C-518
Padlockable safety release latch
Optional kick plate for added protection
All hardware is corrosion-resistant
5-year limited warranty
Architectural Data Sheet(s)

Plyfoam Doors are reliable, durable, tight sealing, easy-to-install and can be ordered in a wide array of styles and options.