ThermicRoll Low – Oval Headroom
ADS-350
The ThermicRoll coiling door is a state-of-the-art door guaranteeing the best performance in terms of speed, safety, and insulation, combined with a very attractive appearance. Suitable for both internal and external applications, the ThermicRoll is a great fit for a range of environments.
The ThermicRoll door is a counterweighted door, no springs, with a patented CNC machine system to create track grooves replacing other complex steel track systems and requires no lubrication.
Insulated panels have high thermal-acoustic insulation, but can also be offered in both acrylic clear view or perforated for ventilation.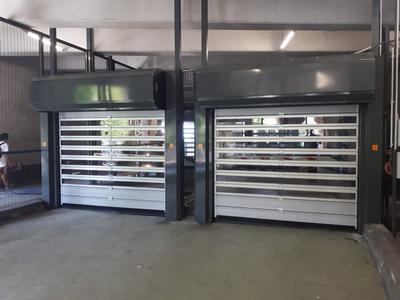 Ambient and Cooler Door Specifications:
Supply where indicated on plans Jamison HPD ThermicRoll coiling door for all temperatures, from ambient to cooler.
Standard curtain is pre-painted aluminum in standard RAL colors. The coil wrap is patented, in high density polyethylene PE HD 500.
Standard UL approved control panel to be a painted steel enclosure with window allowing vision of internal LED readout. Control panel uses a proprietary circuit board with inverter 380 V and with microprocessor.
The motor is an asynchronous inverter duty motor with brake. The incremental encoder mounted is attached to the end of the drum shaft.
A light curtain is installed on the inside of the side guides and detects the presence of a pedestrian or vehicle, with 22 rays activated up to a height of 8 feet (depending on the size).
A manual crank release (counterweight) is standard for an emergency opening.
Power to be 208, 230, or 480 volt AC, 60 Hertz, 3 phase. Circuit breakers to be provided by other: Consult factory for amperage. Complete door assembly to be ready for connection with power. (Architect to designate responsibility for field wiring).
Product Overview
Options & Accessories
Door panels can be supplied as either insulated, ventilated, or clear acrylic window panels.
Pull cords.
Push button.
Motion detector.
Floor loop.
Radio control.
Prox sensor in lieu of push button on control panel.