JAMOCOR® Non-Corrosive Fiberglass Architectural Style 1 3/4″ Swing Door
ADS-500
'Tuf' and Beautiful. The Jamotuf® product line is the perfect combination of form and function.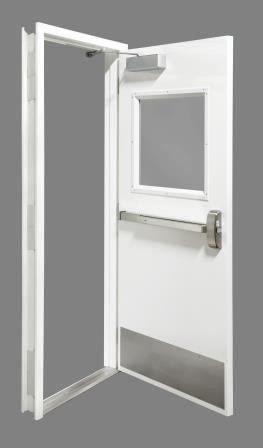 Product Specifications
Supply where indicated on plans Jamison Jamotuf® FRP door
FIBERGLASS REINFORCED DOOR AND FRAME SYSTEM
REFERENCES
A. ASTM D 635 Standard Test Method for Rate of Burning and/or Extent and Time of Burning of Self-Supporting Plastics in a Horizontal Position.
B. ASTM E84 Standard Test Method for Surface Burning Characteristics of Building Materials.
C. ASTM D4385 – Standard Practice for Classifying Visual Defects in Pultruded Products.
D. SDI 100 – Recommended Specifications for Steel Doors and Frames.
E. SDI 117-13 – Manufacturing Tolerances for Steel Doors and Frames.
F. Title 21 CFR 177.24230 Code of Federal Regulation of Component intended for use in Contact with Food.
G. UL94 – Test method for flammability of plastic materials.
PERFORMANCE OPTIONS
A. Door Opening Assemblies:
1. FDA resin as required per Title 21 CFR 177.24230.
2. Maximum Flame Spread 25 in accordance with ASTM E84, self-extinguishing in accordance with ASTM D635.
QUALITY ASSURANCE
A. Manufacturer Qualifications: Personnel specializing in furnishing fiberglass doors and frames with a minimum documented experience of 25 years.
B. Installer Qualifications: Company specializing in installation of Commercial grade Doors and Frames with a minimum of 3 years documented experience or factory instructed and certified in the installation of manufacturers product.
WARRANTY
A. Manufacturer's Warranty: Fiberglass Doors and Fiberglass Door Frames have a lifetime guarantee against failure due to corrosion from the specific environment named at time of purchase. Additionally, fiberglass doors and fiberglass door frames are guaranteed for 10 years against failure due to materials and workmanship, including warp, separation or de-lamination, and expansion of the core.
PRODUCTS
MANUFACTURERS
A. Acceptable Manufacturer: Jamotuf, LLC, P.O. Box 70
Hagerstown, MD 21741-0070, PH. 800-532-3667 FAX 301-791-7339
MATERIALS
A. Fiberglass Mat: Glass Fiber chopped strand and or Woven roving.
B. Resins: Manufacturer's formulation for molding or fabricating units to meet specified requirements. Adhesive bonded stiles and rails are prohibited.
C. Anchors: Manufacturer's standard Stainless Steel Anchors as required for opening condition and material of structure.
D. Fasteners: Stainless Steel
E. Glazing: Type specified in Section 08800, factory or field installed.
COMPONENTS
A. Non-rated Fiberglass Reinforced Plastic (FRP) Doors:
1. Thickness: 1-3/4 Inches (45mm)
2. Construction:
a. Core: Closed Cell Insulating Foam Non CFC and HCFC free, Fire Retardant Flame Spread of 25 or less and low smoke developed 185 or less per ASTM E84. Reinforced for Thru-bolting Hardware as necessary, prepared for Press Molding of Plates and Edges.
Option: Polypropylene Honeycomb Core where specifications, codes, or other customer preference is indicated.
Coated Kraft Paper cores are not permitted.
b. Door Plates: Molded in one continuous piece, resin reinforced with hand-laid glass fiber mats and or woven roving, nominal 1/8″ (3mm) thick, unpainted, 25 mil molded gloss Gelcoat surface.
c. Door edges: Molded Fiberglass reinforced, machine tooled edge, Nominal 3/8 Inch (10 mm) thick molded to plates to create a seamless monolithic panel. Bonding Plates to Pultrusions or use of metallic edges are not permitted.
3. Sizes: Indicated on Drawings.
B. Door Frames:
1. Non-Rated Construction: Fiberglass reinforced plastic (FRP) structural pultrusion. Integrally molded standard color in gloss finish. Jamb to Header joints mitered and reinforced with no screws in Frame Face.
Optional: Heat-Cured-Miters (HCM) Resin joined and reinforced Miters.
Optional as required: 16 or 14 Gauge, Type 304 or 316 Stainless Steel frames. Face welded or Knockdown standard, fully welded as option.
2. Frame profile: 5-3/4 Inches (146mm) depth x 2 Inches (51mm) wide faces, double rabbeted with 5/8 Inch (16mm) high stop as standard.
Profiles conforming to SDI 117-13 profile tolerances, ASTM D4385, ASTM E84 Standard Flame spread of 25 or less, and UL94 V-0.
Optional: 4″ (102mm) profile depth or for custom depths consult factory.
3. Sizes: Indicated on Drawings.
C. Louvers in Non-Rated Doors:
1. Construction: Fiberglass Reinforced Plastic construction or Type 304 Stainless Steel.
2. Standard Sizes : 12 Inches (305mm), 18 Inches (457mm), and 24 Inches (610mm) Square.
D. Lites in Non-Rated Doors:
1. Stops: Molded Polymer Construction or Type 304 Stainless Steel.
2. Glazing: Specified in Section 08800. Standard Clear Tempered Glass, Laminated Glass, or High Impact Polycarbonate Plastic glazing.
3. Sizes: Indicated on Drawings.
4. Fasteners: Current manufacturing methods and practice Stainless Steel or Adhesive tape.
E. Fiberglass Reinforced Plastic (FRP) Transom Panel: Match adjacent Door Construction and Color.
F. Door Hardware: Specified in Section 08700.
FABRICATION
A. Fiberglass Reinforced Plastic (FRP) Doors:
1. Glass to Resin ratio to comply with industry standards for specific molding processes to provide maximum Corrosion Resistance and Strength.
2. Mortise for Lockset and recess for Strike plate in Lock Stile.
3. Embed Reinforcements for Hardware beneath molded edge as required.
B. Fiberglass Frames:
1. Reinforce and Mortise for Lock Strike in Lock jamb.
2. Reinforce for hinges, closers, latches and other hardware as indicated.
Product Overview
The Jamotuf® JAMOCOR molded door is an aesthetically pleasing combination of form and function.
The 25MIL molded gloss gelcoat surface over the fiberglass reinforced molded structural layers ensure both beauty and strength. The panel color pigment is molded into the skin.
A 3/8″ thick solid molded monolithic fiberglass perimeter edge, combined with solid fiberglass vertical stiffener reinforcements are all molded together with the 1/8″ fiberglass molded plates to form a strong, durable, seamless, monolithic panel.
Machine tooled edges are standard as well as a beveled latch edge when a latch is provided.
Pultruded fiberglass frames are standard and have the color pigments molded into the profile.
The standard core is a closed cell insulating foam which is CFC, HCFC free, and low smoke developed fire retardant. An optional polypropylene honeycomb core is also available.
Options & Accessories
Stainless Steel Ball Bearing Hinges, Chrome or Stainless Steel, Locking or Passage Latchsets, Panic Bars, or Push Pulls.
Stainless Steel Kickplates in standard 10″, 18″, 24″ , or 36″ height 2″ Less than Door Width.
Head and Jamb Gasketing, Door bottom Sweeps , and or Thresholds.
Polymer or Stainless Steel Lite Kit moldings with Safety Glass or Polycarbonate glazing in Single or Double Pane for insulating requirements. Standard Sizes include: 6″ x 30″, 12″ x 12″, 18″ x 18″, 24″ x 24″, or 24″ x 30″.
Fire Retardant Resins, FDA resins, Polypropylene Honeycomb core, Balsa wood core.
Transom Panels of same construction as door panel.
Stainless Steel Doors and Frames, Knockdown, Face welded, or Fully welded in Type 304 or Type 316 up to 14 Gauge.