DynamicRoll® Clean High-speed doors are self-repairing, meaning that if the door curtain comes out of their guides (for example, in the event of impact with a forklift) the system will automatically reset the curtain back into the guide on the next close cycle.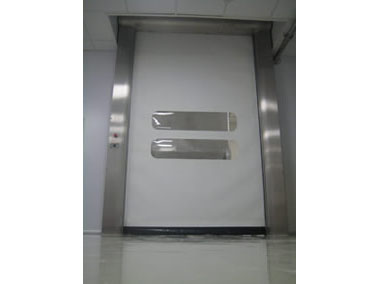 Up to 2.5 m/s opening speed
1 ph inverter drive control panels
Self repairing curtain following impact
Canopy and motor cover included
1700 g/m2 antistatic curtain
2 rows of vision as standard
Frame and all covers are stainless steel as standard
Simple modular design
Counter weight as standard
Quick lead times
Proven reliable design
Air permeability <12m3/m2h – 50Pa

Dynamicroll Clean columns are made from stainless steel. The motor is enclosed in the heading and comes as standard with a counter weight for emergency opening. Modular construction allows easy interchange of door parts.
At the heart of the Dynamicroll Clean door design is our innovative curtain edge that firmly holds the curtain into the side guides. If impacted, the curtain will release from the side guide and automatically reset on the next door
cycle. Because there are no metal parts within the curtain design, damage is kept to a minimum. A double ballasted bottom edge ensures there is always a good seal to the floor.
Application

Internal
External

Standard
Standard

Speed

Maximum Opening Speed
Maximum Closing Speed

2.5 m/s
0.8 m.s

Door Sizes

Maximum Width
Maximum Height

4000mm
4000mm

Space Requirements for Fitting

Left Hand Side
Right Hand Side
Head Room Depending on size

230 mm
230 mm
450 mm

Wind Class

4000 x 4000

Class 1

Curtain Weight

1700g/m2

Standard

Curtain Colours

As per Options

Standard

Control Panel

Inverter controls built into frame

Standard

Controls

Proximity sensor and Stop

Standard

Operating Temperature

-30°C – +70°C

Heating Kits Optional Extra

Door Frame Construction

Stainless Steel

Standard

Guide Material

Self Lubricating Polyethylene

Standard

Power Supply

Single Phase and Earth 220v

16 Amp slow acting fuse

Supply Cable

Correct size to avoid power loss 2.5mm2

As per Electrical Regulations

Column Covers

Stainless Steel

Standard

Barrel Cover

Stainless Steel

Standard

Motor Cover

Stainless Steel

Standard

Safety Edge

Heading Sensor

Standard

Photocell

Transmitter / Receiver Type

Standard

Vision Panels

2 Rows

Standard

Timed Close

Selected on Installation

0 – 200 secs

Limits

Digital Encoder
Mechanical Limits

Standard
Optional

Emergency Opening

Hand Crank to the Bottom of the motor

Standard

Self Repair
Curtain self repairs following impact
Optional
Various vision panel designs
Digital print onto the curtain
Customer logos
Insulated curtain
"T" cut emergency exit in the curtain
UPS battery backup
Remote controls
Radar sensors
Safety light grid
Induction loop detectors
Pull switch with optional gallows
Proximity sensors
Key switch
Digital keypad
LED traffic lights
Flashing warning light