DynamicRoll® Stainless
ADS-301
DynamicRoll® High-speed soft bottom edge doors are fast, self-repairing, easy to clean, and completely safe.
If the door curtain comes out of its guides (for example, in the event of impact with a forklift) the system will automatically reset the curtain back into the guide on the next open cycle.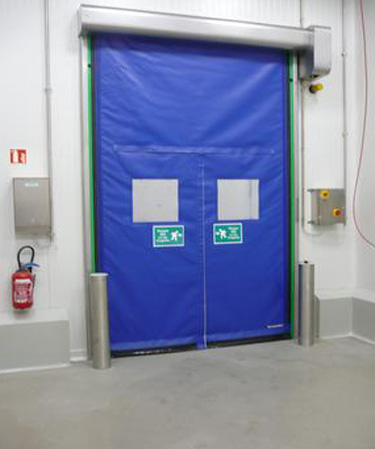 Ambient and Cooler Door Specifications:
Supply where indicated on plans Jamison HPD Model Dynamicroll high speed self-repairing fabric roll up door for all temperatures from ambient to cooler.
Roll up door side frames and header to be standard galvanized steel.
Standard UL approved control panel to be a painted steel enclosure with window allowing vision of internal LED readout. Control panel uses a proprietary circuit board with inverter. Standard opening speed is up to 100" per second based on size. Standard closing speed is 32″ per second. Circuit board has LED lighted display showing operation modes and information codes.
Door curtain is made of reinforced PVC, with flexible weighted soft bottom edge. The edge of curtain has continuous injection molded teeth that then move up and down in a selflubricating polyethylene track attached to structural galvanized side frames.
The drum and shafts are made of galvanized steel. Both the drum and the motor have galvanized covers.
The standard motor is IP 54 2HP. The incremental encoder mounted is attached to the end of the drum shaft.
An infrared photocell NPN, IP67 is installed on the inside of the side guide and detects the presence of a pedestrian or vehicle.
A bottom edge detector reverses the door when it hits an obstacle during the closing cycle. This detector can be either a wireless safety edge or a sensor that determines whether the fabric can unroll properly.
Power to be 208, 230, or 480 volt AC, 60 Hertz, 3 phase. Circuit breakers to be provided by other. Complete door assembly to be ready for connection to power. (Architect to designate responsibility for field wiring.)
Product Overview
Dynamicroll side columns are made from stainless steel. Modular construction allows easy interchange of door parts.
At the heart of the Dynamicroll door design is our innovative curtain edge that firmly holds the curtain into the side guides. If impacted, the curtain will release from the side guide and automatically reset on the next door cycle.
Because there are no metal parts within the curtain design, damage is kept to a minimum.
Options & Accessories
Various vision panel designs
Digital print onto the curtain
Customer logos
Insulated curtain
"T" cut emergency exit in the curtain
Stainless steel frame
Powder coated frame
Counter weight for manual opening
UPS battery backup
Remote controls
Radar sensors
Safety light grid
Induction loop detectors
Pull switch with optional gallows
Proximity sensors
Key switch
Digital keypad
LED traffic lights
Flashing warning light
Heating kits to guides and motors