The optimal solution for large openings. This door is designed for continual use, can be installed inside or outside of buildings, and has a simple modular design making for a fast and easy installation.
The strong belted opening system and self-supporting structure (up to 22'6″) ensures maximum functionality even for large dimensions and high wind loads.
The door design consists of a U-shaped column section finished with a rubber seal on each side to protect the curtain when operating.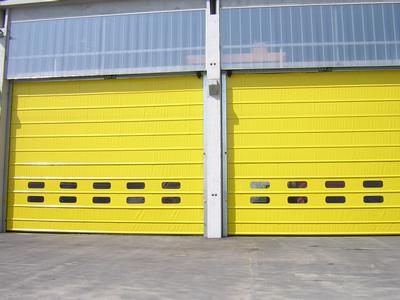 Product Specifications
Maximum Sizes 20′ x 20′
Opening Speed Up to 40″ / second
Closing Speed Up to 40″ / second
Door Operation Gravity driven
Wind Class EN 124424 118″ x 118″ class 4
i>197″ x 197″ class 3
i>315″ x 315″ class 2
Side Frame Galvanized steel standard
Covers Galvanized steel motor cover
Control panel Galvanized steel painted RAL 7035, control card with motor starter
Door Curtain Reinforced 35 oz PVC with weighted bottom edge. For colors, see the approval drawing.
Motor(s) IP 54, 2 HP 208, 230, 460VAC 3PH 60Hz
Limit Positioning Mechanical switch
Safety Edge Wireless
Product Overview
The control board is supplied by a 415v supply and the operation is designed for continuous use.
The curtain has horizontal bars fitted into pockets welded to the curtain to give up to a class 4 wind load, ideal for the more exposed locations. The curtain is raised and lowered by lifting belts and gathered at the top.
Options & Accessories
Side frames, header, covers can be Stainless steel.
Control panel available in Stainless Nema 4x.
Control wiring prewired to control panel.
Wall attachment fastenings.
Activation devices.
View windows.