Jamison Door Company has captured 100 years of door making experience and artistry in this beautifully-hand crafted limited edition door. Made with genuine ¾" thick oak lumber and bronze finished hardware, this signature door replicates early 1900s door design in classic Art Deco style.
The latch and hinges are the authentic Jamison originals. There is no better choice if looking for something beautiful, unique, and high quality.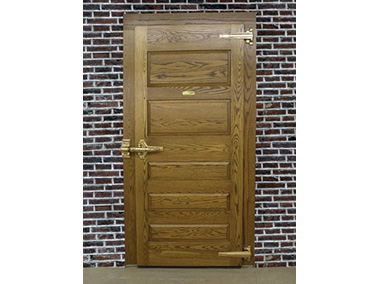 Cooler Only
Size 3'0″ x 7'0″ x 4″
Classic raised panel design front in solid oak with corner guard
24 Gauge #4 polished stainless steel back and edges
Hardware on front is Art Deco style Jamison "JR" Hinges and Jamison "W2" Heavy-Duty Fastener with inside release in polished bronze finish. Hardware on back consists of push rod and door pull, chrome finish
Standard 4″ – Minimum R value of 32 at 20F for 4 inch doors per ASTM C-518, Jamifoam Insulation
Standard 1-1/2″ thick solid oak casing frame stained to match door front
Three finishes available; light, medium and dark oak
Only 100 Limited Edition Cooler Doors will be produced, all authentically numbered.
Architectural Data Sheet(s)

As a high-quality architectural timepiece, the Anniversary Door combines distinctive style and appeal with the versatility of a fully-functional cooler door. Ideal for many applications, including:
Wine Cellars
Breweries
Restaurants
Floral Shops
Grocery Stores
Beer Coolers
Distributors
Three finishes available, light, medium and dark oak.