Jamison Door Company has captured 100 years of door making experience and artistry in this beautifully-hand crafted limited edition door. Made with genuine ¾" thick oak lumber and bronze finished hardware, this signature door replicates early 1900s door design in classic Art Deco style.
The latch and hinges are the authentic Jamison originals. There is no better choice if looking for something beautiful, unique, and high quality.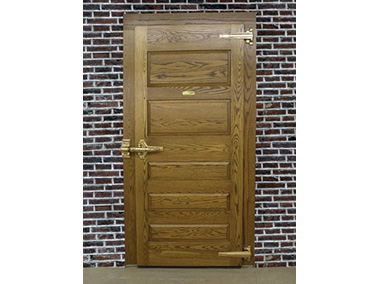 Product Overview
As a high-quality architectural timepiece, the Anniversary Door combines distinctive style and appeal with the versatility of a fully-functional cooler door. Ideal for many applications, including:
Wine Cellars
Breweries
Restaurants
Floral Shops
Grocery Stores
Beer Coolers
Distributors
Options & Accessories
Three finishes available, light, medium and dark oak.