Mark IV® Controlled Atmosphere
ADS-201B
Single leaf horizontal sliding manually operated door.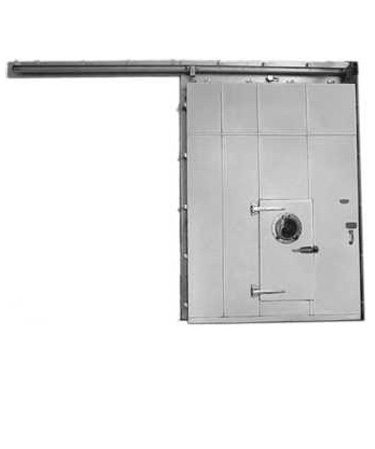 Product Specifications
Supply where indicated on plans Jamison Mark IV® CA Controlled Atmosphere Manual Single Leaf Horizontal Sliding Cooler Door, with Diamond Trac® System*.
Door leaf to have aluminum extruded structure and to be metal clad with #26 gauge white prepainted stucco embossed steel front and back. Frame (casings and header) to be metal clad on all exposed surfaces with #26 gauge white pre-painted stucco embossed steel.
Door leaf to be filled with 4″ of Jamifoam non- CFC polyurethane insulation with an R value of 28 at 40°F.
Door gaskets to be compression type at sides, head and sill of frame. Sill gasket assembly to be designed to provide positive seal at bottom of door on back, during long term storage. Sealing angle to be easily removed to allow smooth passage of traffic during loading and unloading operations.
Hardware to have protective coating against corrosion. Heavy duty locking bolts to be provided for positive sealing during storage.
Options & Accessories
Padlocking provisions (contact factory for specific recommendations).
Swinging wicket door.
Jambs.
Inside trim.
Metal cladding can be stainless steel, stucco aluminum, galvanized, or galvanized steel painted to meet specifications.
If stainless steel construction, appropriate hardware components can be chrome plated and/or stainless steel.
Mirror image frame.
View Windows: (contact factory for specific recommendations.) 10″ diameter hinged porthole type window with 3/8″ thick clear glass and adjustable wing nuts to control rate of oxygen entry.