TCAV Touch Thru Conditioned Air Vestibule
TCAV-335
A small conditioned air vestibule with touch opening capability.
Vestibule using non-motorized traffic doors. Typically for personnel use.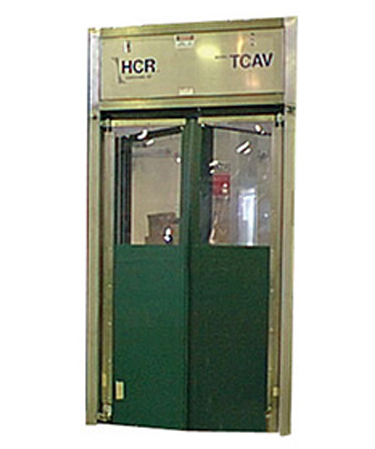 Frequently Asked Questions
1. What factors determine the choice of door solution for an application?
Some of the important factors determining the door type recommendation are the temperature difference across the doorway, opening size, traffic rates, safety concerns, convenience, maintenance, building pressure imbalance, energy savings and etc…
2. Where are HCR air doors made?
HCR air doors are manufactured in Montana, USA.
3. What is the biggest doorway opening size that can be fitted with an HCR air door?
Openings of 14-ft wide and 20-ft high are maximum width and height dimensions that can be fitted with an HCR air door.
4. Which side of the doorway should the HCR air door get installed?
HCR air doors can be installed on either side of the doorway for single air curtains whereas the double and triple air curtain units could also be split mounted. Single air curtains can also be custom designed for doorway jamb mounting.
5. What is an HCR NPAC air curtain?
Negative Pressure Air Curtains are designed for doorways that show pressure imbalance across the opening.
6. What is an "HCR Doorway Survey" form?
An HCR Doorway Survey form is a one page customer completed form summarizing key physical, thermal/environmental, usage and customer desired features of a specific doorway.